i am loving my first shipment of jeweliq!
it was heaven when i opened up this glorious package.
so a little background to my love of jeweliq...
i won a giveaway for my first bubble necklace about two months ago from them...
i have been oogling over several items for months now..
i finally bit the bullet and got a few items!
the most one piece cost is $25 and its all free shipping...
no matter how big or small!!!
so i ended up with several awesome pieces for a minimal cost.
oh and they added matching earrings to my necklace!
awesome bonus! cannot wait to rock these new pieces.
check it all out here....
what do you guys think?!?
what would you pick from jeweliq???
It's Tuesday which means it's time for Loving Lately!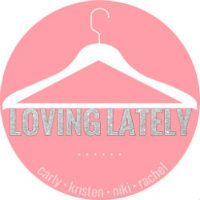 Rules
1. Follow Your Hosts and Co-Hosts
Or link back to one of your hosts, and help us promote Loving Lately!
Link up your post on what you're loving lately! Please do not link up your entire blog or any posts that are not "Loving Lately"! We are so happy to have you link up, and we do go through and read all of the posts, so if you do not give credit, we will have to remove your link. And we don't want to have to do that! So please share the love and include a link back!
It's a linky party after all!
Visit some of the other posts in the linky and say hello!
Help us promote and grow this party! Send a tweet and let everyone know you linked up!